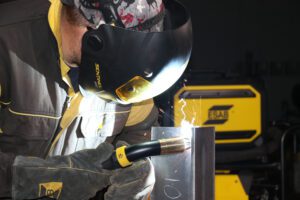 Annapolis Junction, Md. – Tweco®, an ESAB brand, has introduced three models of Centrovac fume extraction MIG guns that remove welding fumes at the gun nozzle to help meet OSHA and ACGIH standards. When paired with the appropriate extraction unit, Centrovac reduces exposure to hexavalent chromium (generated when welding stainless steel), manganese, aluminum and other harmful fumes. The guns can assist with meeting particulate limits in the operator's breathing zone and when working in confined areas, inside tanks or other situations with limited ventilation.
"Centrovac MIG guns create a cleaner, healthier and more attractive work environment because they capture welding fumes at the source," says John Esposito, Global Product Manager, ESAB. "Our new guns are extremely effective and ergonomically designed for the best comfort and weld quality results. Even at high volumes and vertical up welds, Centrovac's fume extraction will not interfere with its shielding gas coverage."
To meet customer needs in a variety of applications using solid, cored or aluminum wires, Tweco offers three models of fume extraction MIG guns:
The Tweco Centrovac 250C air-cooled unit is designed for light-duty fabrication applications; it has a rating of 250A at 60 percent duty cycle and can accommodate wire diameters up to .039 in.
The Tweco Centrovac 415C air-cooled gun meets the needs of medium- and heavy-duty fabrication like trailer manufacturing, shipyards, aerospace, tank and vessel welding. It has a rating of 60 percent duty cycle at 380A and can accommodate wire diameters up to 1/16 in.
The Tweco Centrovac 420CW water-cooled MIG gun is designed for heavy-duty welding and long duty cycles. Its high cooling flow rate allows the front end of the gun to cool more rapidly, extending consumables life by three to five times compared to air-cooled guns. It has a rated duty cycle of 100 percent at 430A and can use wires up to 1/16 in diameter.
Courtesy of ESAB.