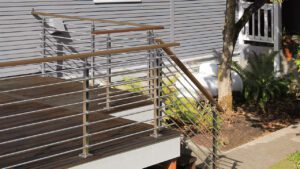 Cascadia is an all 316-marine-grade stainless steel product that is simple to install and offers a clean, elegant appearance. With Cascadia, AGS Stainless has created a product that captures the high visual impact of a custom-made, stainless steel railing system; but in a product that is available from your local building materials supplier. Cascadia consists of less than 8 SKU's, and it can be offered to your clients at a price that is a fraction of the cost of locally fabricated stainless railing.
Key Features of Cascadia:
The elegant look of a custom-made, stainless steel bar rail system
No custom-design work is required, saving both time and expense
Engineered for residential applications, ICC – ES certification*
A welded base plate with an adjustable stem at top to accommodate sloped conditions
Available at your local lumber dealer
Easy to assemble/install. No special tools or skills needed to install
A clean, refined look that will help differentiate your projects
Courtesy of AGS Stainless.