The Most Profitable Sectors of the Food Industry for Stainless Steel Manufacturers
FEATURED STORY
The world GDP is over $80 trillion, and more than $15 trillion of that is spent on food. Sugar purchases alone account for over $1 trillion of this GDP. There is also a high percentage of food revenues spent on stainless steel materials within this industry, as critical and severe service needs are required.
By Robert McIlvaine, President & Founder, The McIlvaine Company
The stainless steel market for processing equipment is valued at well over $200 million per year. When discrete applications are included and a broader definition of stainless steel products is used, the market is worth closer to $400 million.1
The Food Market in Relation to Stainless Steels
The food and beverage market includes not only stainless steel, which is used directly in the creation process, but also the stainless steel materials required in the use of utilities such as water, electricity, and waste treatment. Many food processing companies may even generate their own electricity and utilize small processors to generate steam. The treatment of wastewater on site, for example, rather than discharging it to a public treatment plant, is common. In fact, in several small towns the food processing company also supplies municipal waste-water treatment for the residents.
Some of the world's largest stainless steel suppliers look at the food market and ask themselves: 'Where can we sell the same grades we supply to other industries?' This is a relevant question because it can lead to the most profitable orders.
The rationale is that if the market for an existing grade is expanded, the cost of production will be less, and the margins and EBITA can be increased. However, some companies have taken a different approach; they ask: 'What are the customer needs? Can we supply a product with lower total cost of ownership than our competitors?' Some of the companies who have taken this customer first approach have generated greater earnings before interest, taxes, and amortization (EBITA), than the industry as a whole. Their approach is to thoroughly understand all the processes and the cost of ownership and then develop solutions which deliver lower costs than the competition.
This approach starts with a segmentation of the food and beverage markets and processes. The questions in each sector are as follows:
How big is the market?
How fast is the market growing?
How important is stainless steel in this market?
What are the specific stainless steel uses in general, critical, severe, and unique service?
To understand this process more thoroughly, different market avenues are explored.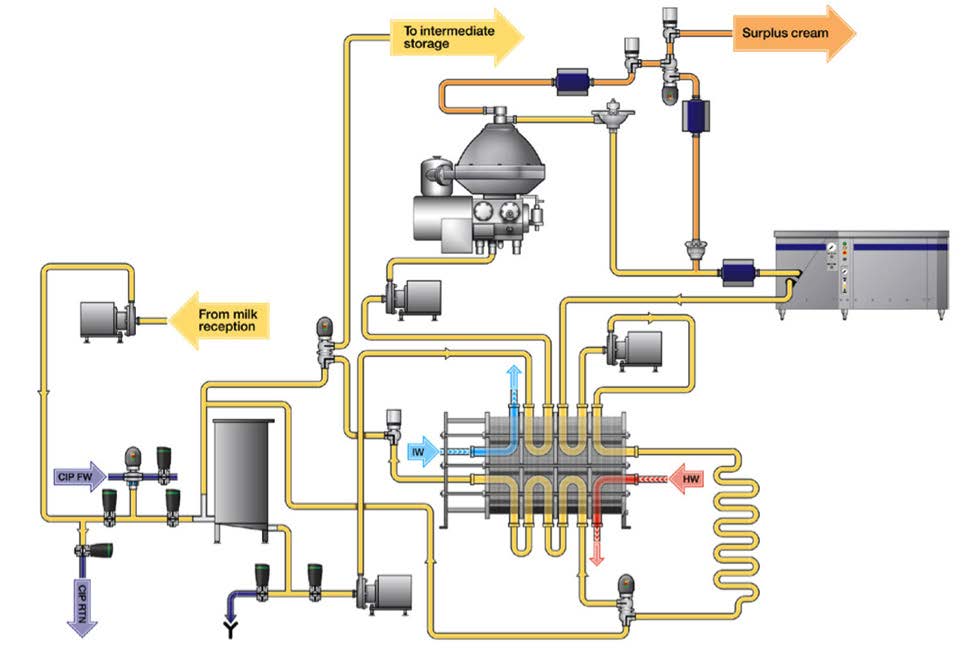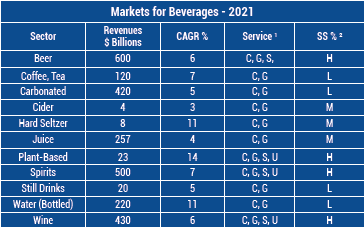 Different Market Avenues
Beverages
Beer is the largest beverage market and stainless steel represents a relatively large percentage of this sector, compared to other industry revenues. There are both critical and severe service applications in beer operations. Wine and spirits, and other beverages are also substantial markets for critical and severe service applications. This means that there is substantial opportunity to provide innovative stainless steel designs with lower total cost of ownership.
For example, stainless steel plays a key role in milk separation and pasteurization processes, see Figure 4.
Stainless steel is also used in the creation and design of many food pumps. For example, SEEPEX says that its progressive cavity pumps have exhibited operational improvements at vineyards that previously utilized centrifugal or rotary lobe pumps during crush and other steps throughout the wine making process, see Figure 2. These steps include:
Must Transfer
 Stem, Skin, Lees, & Sediment Waste
 Filtering and Bottling
Additive Dosing
Food
The poultry, meat, and seafood industry is the largest food market. While it is a big market for stainless steel, in relationship to total industry sales, stainless sales are quite small. The sugar industry is also big market for stainless steel, though sugar applications differ between cane and beet sugar. Cane sugar involves disposal of the waste (bagasse) which has substantial fuel value while cane sugar milling and refining can be undertaken in different locations, see Figure 5.
After determining how a specific stainless grade can provide the lowest total cost of ownership in a cane milling application, the best prospects can be identified. Thailand is a major purchaser of stainless steel for sugar, even though it is a small purchaser in other food segments. Thailand has eight major sugar producers and 49 sugar factories; each has site-specific factors to incorporate.
Final Thoughts
The analysis of each application of stainless steel, and each process that requires it, can become the foundation of the business strategy, rather than a peripheral tool. The identification of the purchasers can therefore be an asset to expanding each grade of the stainless steel market.
References
1. Stainless Steel: World Markets published by the McIlvaine Company.
About the Author
Robert McIlvaine is the CEO of the McIlvaine Company, which publishes Industrial Valves: World Markets. He was a pollution control company executive prior to 1974 when he founded the present company. McIlvaine oversees a staff of 30 people in the U.S. and China. http://www.mcilvainecompany.com