Synalloy Metals
FEATURED STORY
Brismet, Specialty Pipe  and Tube, and American Stainless Tubing.
Synalloy Metals, and its family of companies, Brismet (Bristol Metals), Specialty Pipe and Tube, and American Stainless Tubing, was not always a combined force. After strategic acquisitions and leadership changes, the companies now proudly stand together to bring an impressive and diverse product portfolio to the market.
Stainless Steel World Americas had the pleasure of speaking with Tim Lynch, Executive Vice President of the metals segment of Synalloy, Clint Skipper, Senior Vice President of Operations for the metals segment of Synalloy, and Jon Lark, Senior Vice President of Commercial Operations for the metals segment of Synalloy, to learn more about how Synalloy Metals came together, its current product offerings, and what is yet to come.
By Sara Mathov
Background and History
The history of Synalloy and its divisions is deeply rooted in the metal sector, specifically personal metals, with extensive pipe and tube product offerings. Based out of Bristol, Tennessee, and with operations in Munhall (Pittsburg), PA, the company has experienced many acquisitions in the last decade, creating a number of diverse divisions. Each division has a number of specialized skills that make it sought after across a number of industries. One of its earliest acquisitions, for example, led to the formation of Brismet. The Brismet division has been an industry leader in stainless, duplex, super duplex, 6 moly, nickel alloy, and titanium welded steel pipe manufacture since 1941.
Synalloy's next segment, Specialty Pipe and Tube, has a long history in the oil and gas industry, spanning over the South and Midwest areas of the U.S. Over the last three years, a recent acquisition of American Stain-less Tube, based in North Carolina, was completed. This rounded out the product portfolio to end users along the East Coast. Synalloy also has a chemicals division that resides in Tennessee and South Carolina. Between the range of companies, Synalloy offers a variety of products for multiple industries today. "We have a national footprint, within our distribution channels, and extremely broad customer segments," said Lynch.
Product Offerings
Brismet offers a wide range of welded stainless steel pipes and tubing, providing a one stop shop for specification and project testing needs. The company manufactures pipes in diameters ranging from 3/8" NPS (0.675"), to as large as 144" in thicknesses, and from 0.065" up to 1.500". Tubing can be provided in outside diameters ranging from 0.625" up to 8.000" in thicknesses from 0.035" up to 0.250".
The company's extensive production equipment allows it to offer the longest lengths available in North America; up to 60 feet from continuous production lines, and up to 48 feet from press brake production lines. These items are available in an array of 50-plus stainless, nickel, and duplex grades.
Products are offered for a wide variety of industries and applications, including agriculture, architectural, appliance, chemical and petrochemical, pulp and paper, and fluid transmission.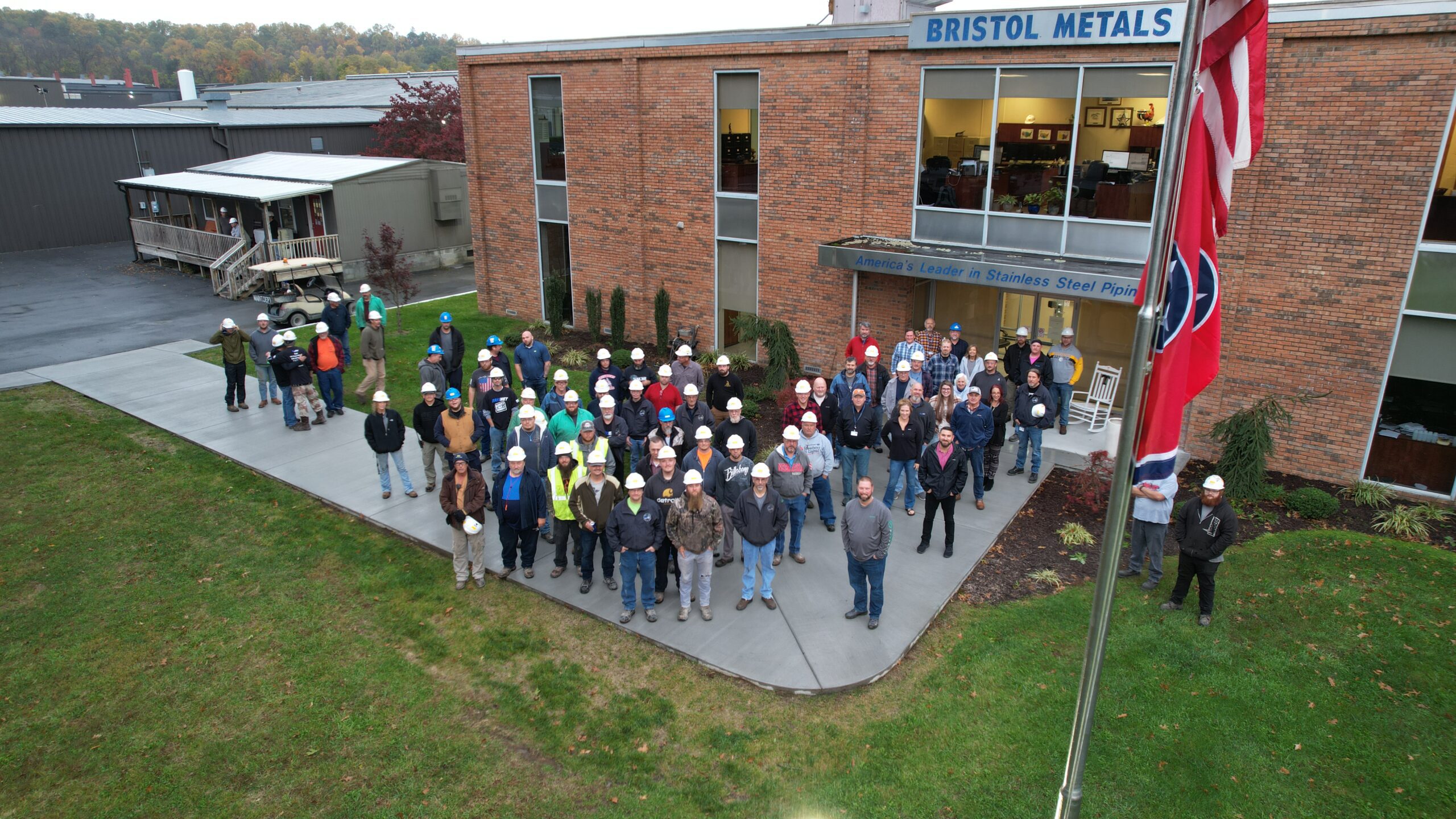 Process and Testing
To ensure that customers' needs are always met, and seams are done to specification standards, extensive manufacturing process is constantly undergone undergone by Synalloy. "It starts from a coil that is received either from the domestic mills, or global market," explained Skipper. "We take a customer order, split the coil into the size and dimensions needed, and then go through a roll forming and welding process. Depending on the application, the next steps will vary."
"Each application and material requires different welding techniques," he continued. "We use high frequency, TIG welding, and laser. That diversity requires us to have strong maintenance and operating knowledge."
At the end of the welding process, the product goes through an inspection, or heat treat line, which is required depending on the customer specification. "Brismet also maintains a state-of-the-art testing lab on-site, which allows for a full range of individual services that can be tailored to specific needs. The technical team can assist with an array of services such as heat-treating, end preparation, special finishes, non-destructive examination, such as eddy-current, and other product testing which can be customized."
As traceability is such an important factor in the manufacturing process, Synalloy traces all of its coils back to the production mills, and keeps the certificates. "We take the requirements of the metallurgical compounds that go into metal and, depending on the application, create different types of sheet steel and thickness," said Skipper. "The sheets have all the requirements of chrome, nickel, or copper, and we make sure we understand the sulfur content, so that we understand the welding parameters we should adhere to. We have a quality card that follows the pipe virtually through the entire system. Having that virtual system allows for better traceability."
"Many of the measures that we put in place help ensure quality," stated Skipper. "We understand how the market performs, and that helps us set expectations on delivery performance. One of the key components for our operational unit is meeting the demand, and we have successfully proven we do that, every time."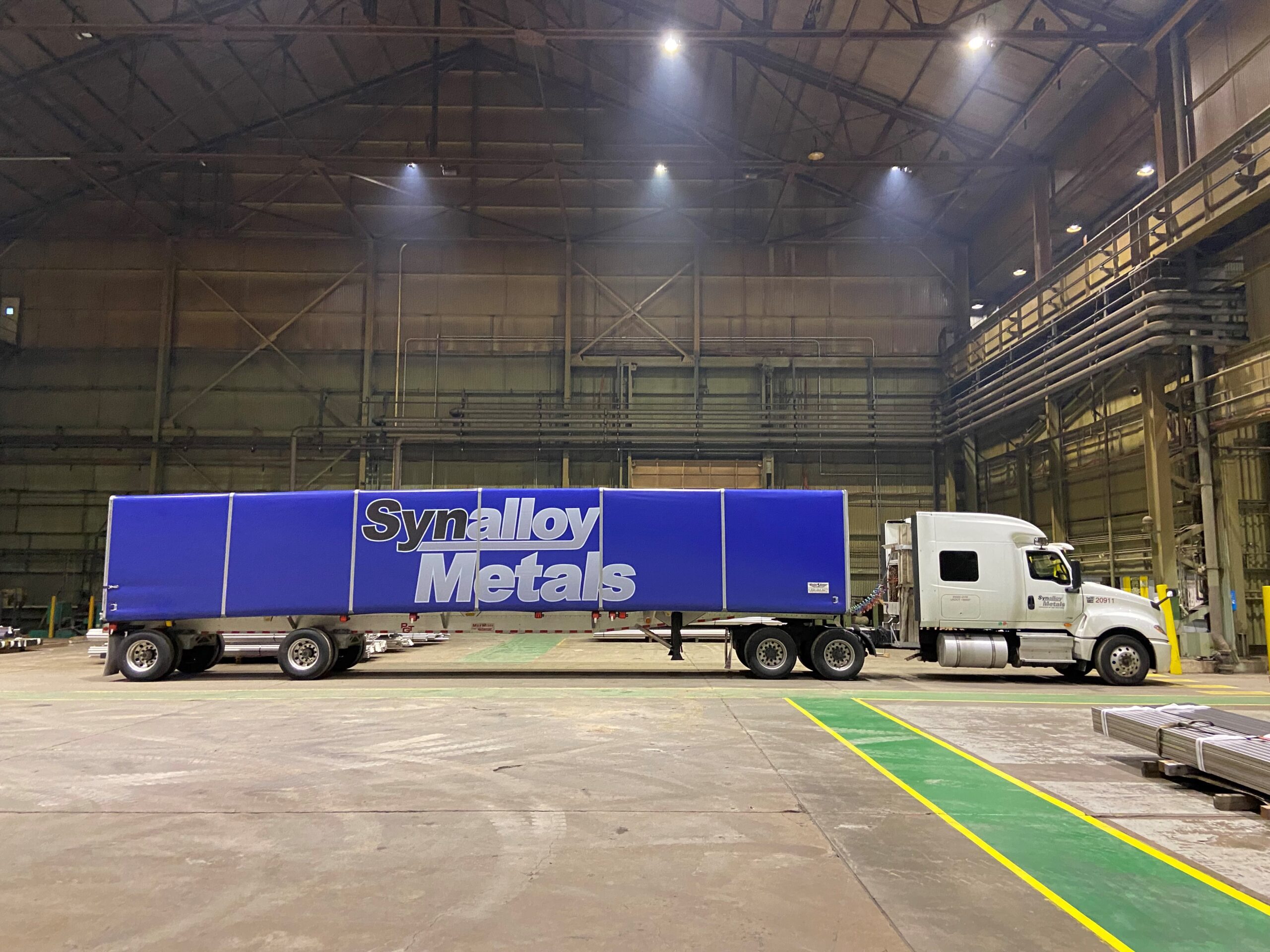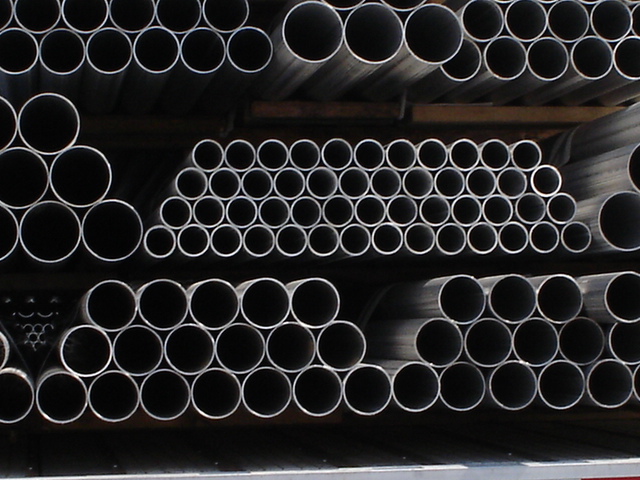 Premier Service and Quality
Each year, the company updates its vision, which is shared with all sectors of the company, employees, and customers. This year's vision was as follows: to be the premier solution provider, through best-in-class safety, quality, and customer experience, while creating value for all team members and stakeholders. Its mission is to safely produce best-in-class quality, while improving on time delivery, efficiency, and financial performance.
In keeping with its dedication to ongoing improvements, Synalloy also recently underwent leadership changes, bringing in a new Chairman of the Board and CEO, along with several key figureheads. When Lynch joined the company, he continued to shift the management strategies and organization functions. "We sat down and took an assessment of who we are as an organization and a team. We conducted a survey and received over 2,000 responses, from employees, customers, and suppliers, to have direct feedback," said Lynch. "I brought in our colleagues and put action plans in place. The bones of our company are very good, and we built on that and improved processes and procedures, and harmonize our business, to become one family."
Since the new action plans came into effect, on-time delivery performance has been improved by nearly 50%, in six months. "We also improved our total recordable injury frequency rate by 27%," said Lynch. "Standardization of our process and practices has created the momentum with the results, and the best is still ahead of us."
Synalloy values its relationships with its customers and takes great pride in the products provided. "We are one team. Some of our customers did not even know the diversity of our product offering, so it is important for us to expand our relationships," said Lynch. "During the pandemic, great resilience was shown from the team to keep processes running smoothly. Our team overcame every obstacle, and made improvements at the same time, despite all of the hardships, which makes me proud to be part of this team."
Alignment and transparency of data has positioned Synalloy to improve communication with its customers. "The communication that goes on internally with this team is amazing," said Lark. "We have information being passed throughout our supply chain process, which is really the heartbeat of what drives good communication back to our customers."
Synalloy does its part in protecting the environment and embraces sustainable practices. "Stainless steel is one of the most recycled materials and long lasting in the environment it is used in. Stainless steel is a sustainable product, and we are manufacturing pipe and tubular products sourced predominately in United States of America," said Lynch. "We take great care in delivering exact lengths of products we sell, and recycle, so material goes back into the supply chain, and is remelted rather than going to a landfill."
To facilitate new growth in the company, planning was done to ensure the upward positive trends continue. "We put together the top stakeholders in the company, and asked ourselves, 'what do we want to be when we grow up'? We created a five year plan, which embodies our mission, to continue to improve as we grow," expressed Lynch. "As we continue to grow and expand, scenario planning and modeling techniques will help run facilities at peak operating performance, while still ensuring quality, making Synalloy a solution leader in what we provide to our business partners."
"As much as we have been getting back to the basics and improving those foundational processes, we are digitizing our business. We will use that to augment our relationships that we have with our customers. We are building the intelligence platform behind the scenes, so that we can make sure the service level is adhered to," said Lynch. "We want to leverage the data intelligence to improve our reliability and cost competitiveness. Digitization is definitely being embraced," he concluded.
"We are very excited about earning our customer's business, and happy to be a part of this great team," said Lark.