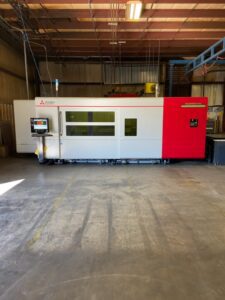 In the Dawsonville, Georgia and Washington, Illinois facilities, BTD hase added a 10,000-watt fiber sheet laser to their setup, allowing to meet the needs of customers while ensuring efficiency and quality are optimized.
The Mitsubishi 3015 GX-F 10K fiber sheet lasers feature an auto pallet changer and can be used with sheets as big as 5- by 10-feet and 2,100 pounds. They can process mild and stainless steel as thick as 1 inch as well as aluminum up to 7/8-inch thick.
The new lasers offer multiple features that enhance efficiency and quality. An auto zoom head automatically adjusts the beam size according to material type and thickness. This capability significantly reduces setup time, while ensuring stable processing that delivers consistent quality. In addition, the machine's automatic nozzle changer can sense when a cutting nozzle is worn out and automatically replace it, minimizing maintenance downtime.
These new sheet lasers join several other machines, including tube lasers, tube benders, stamping presses and sheet lasers.
Courtesy of BTD.