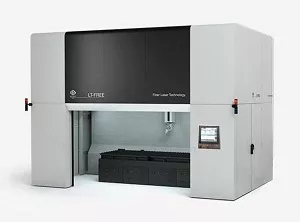 BLM GROUP offers the LT-Free turntable 5-axis laser cutting system for laser cutting bent and hydroformed tubes, flat and deep-drawn sheets, and welded assemblies.
Available with fiber laser power up to 4 kW, the system is suitable for machining mild steel, copper, aluminum, brass, stainless steel, and galvanized steel. Part access is unlimited, the company states, and trimming and feature cutting can be achieved on the bend.
Courtesy of BLM Group.