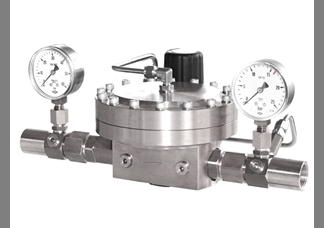 Dome pressure regulator manufacturer, WITT has added stainless steel to its range of products.
Formally a brass-only manufacturer, this move allows users to reduce the pressure of nearly all industrial, aggressive and corrosive gases.
The regulators, which control line pressure using a gas cushion, are intended for installation in gas pipelines or production facilities, including chemical and environmental engineering, metal and glass processing and food production.
Dome pressure regulators are characterized by an extremely stable control behavior, even if the extraction quantity varies, there are extremely high or low flow rates, or if fluctuations in the gas inlet occur. The operator consistently receives a constant working pressure for a high degree of process stability.
For applications that involve aggressive and corrosive gases, WITT uses a special combination of materials.
The housings are made of high-quality stainless steel 1.4404 (AISI 316L), which is characterized by high acidity and corrosion resistance. The very resistant FPM is used as sealing and membrane material.
Dome pressure regulators allow the smallest differences of less than one bar to be just as quickly and precisely regulated as very large ones. A two-stage pressure regulation is no longer necessary in most of the cases.
An advantage of the WITT dome pressure regulator is its flexible use. The working pressure can be immediately adjusted using a pilot pressure regulator as soon as a different gas pressure is needed at the extraction point. The gas being regulated can be used as the control gas. In case of internal medium control, the dome-loaded pressure controller works autonomously and the control gas is then supplied to the back pressure side once again. Because no gas is used for pressure regulations, this method is particularly cost-effective.