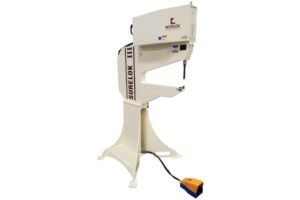 Introducing our newest floor mounted problem solver with a 25" throat. The new SURELOK III is designed for all clinching applications and is faster, smoother, quieter and uses less air than ever before. Our stainless steel ready machine offers a no hassle 2 minute changeover for efficient operation and production.
The SURELOK III clinches material with 5 tons of force smoothly and efficiently using only 90psi shop air. The tooling adapters are designed for sheet metal work that needs a 5 ton press. It features an adjustable 2 1/2" stroke, and has a convenient adjustment for accuracy and safety.
A Self Piercing Rivet kit is available for any SURELOK III to join aluminum composite materials, TPO and PVC coatings. No pre drilled holes required.
Courtesy of Norlok Technology Inc.