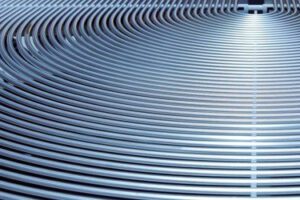 Sandvik Materials Technology, a developer and producer of advanced stainless steels, special alloys, and other high-performance materials, has received the first full order for its unique Sanicro® 35 grade that bridges the performance gap between stainless steels and higher-cost nickel alloys.
The order encompasses supplying tubes for two heat exchangers used in a crude unit fractionator at a major refining company in the U.S. Gulf Coast.
Previously, the bundles were constructed with hyper duplex stainless steel tubes, however the refinery's challenging process conditions called for an even higher corrosion resistant alloy. After an extensive evaluation of the corrosion and mechanical properties of Sanicro® 35, as compared to other high cost nickel alloys under consideration, the customer selected this alloy for its high performance and cost alternative offering.
Sanicro® 35 offers exceptionally high strength and corrosion resistance at a wide range of temperatures. It is an alternative to existing duplex and austenitic stainless steel grades and more expensive nickel alloys.
Courtesy of Sandvik.