Maruichi Stainless Tube Co., Ltd.
FEATURED STORY:
Maruichi Stainless Tube is globally recognized for its manufacturing of high-quality seamless stainless pipes and tubes. With innovative grades of stainless steel, a focus on products for the semiconductor and automotive markets, and ongoing large-scale investments in technology, the company has earned a reputation as a go-to source for stainless piping solutions. Stainless Steel World Americas had the pleasure of speaking to President, Mr. Takashi Onishi, concerning the company's demand-oriented production approach, its commitment to decarbonization, and its continuous evolution in the pursuit of excellence.
By Kiyo Ichikawa and Sara Mathov
Maruichi Steel Tube, the parent company of Maruichi Stainless Tube, has been offering customers dedicated services since its establishment in 1947. As a specialist in welded carbon tube making, the company has amassed technological know-how and expertise throughout its global facilities. With state-of-the-art tube mills, cold reduction, and continuous hot-dip galvanizing lines, its 16 plants in Japan, and 17 plants overseas, three of which are in the U.S., two in Mexico, and 12 in Asia, allow the company to provide comprehensive service to each of its customers.
Maruichi Stainless Tube joined the Maruichi Steel Tube Group in April of 2020. Kobelco Steel Tube was renamed Maruichi Stainless Tube from June 1st, 2020. Since this transition the company has continued to manufacture high-quality seamless stainless pipes and tubes, with a focus on high growth products such as semiconductor bright annealed (BA) tubes.
As a leading manufacturer of welded steel pipes for a wide range of applications, including structural steel pipes for construction, steel pipes for automobiles and motorcycles, and steel pipes for greenhouses and conduit pipes, the company has adopted a demand-oriented production system that enables it to respond quickly to customer requirements.
Responding to Demand
During the COVID-19 crisis, remote work became widespread due to movement restrictions imposed worldwide, and the demand for IT equipment expanded enormously. At the same time, with the spread of self-driving devices and artificial intelligence, a worldwide shortage of semiconductors became apparent. This, in turn, stimulated an increase in the construction or expansion of factories by semiconductor manufacturers, resulting in a sudden increase in demand for bright annealed (BA) tubes for this sector.
"During the COVID-19 crisis, domestic demand for renewable energy (boilers for biomass power generation, waste-to-energy boilers, etc.) remained strong," explained Mr. Onishi. "However, due to the worsening situation in Ukraine, prices for raw materials such as nickel have soared, as have costs for energy such as electricity and gas, as well as other secondary materials. Despite this, the company has continued improving sales prices in Japan and overseas."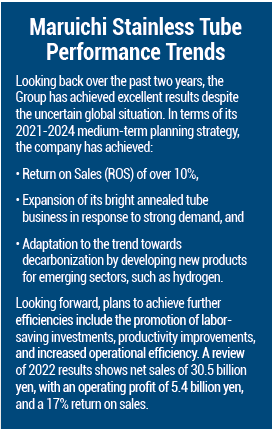 The company started manufacturing coiled tubes in March 2019, with overseas exports starting from 2021 targeting the oil & gas and petrochemical sectors.
"Since then, Maruichi has continued to receive orders from state-owned oil companies in the Middle East," explained Mr. Onishi. "For example, earlier this year, we received an order for a large project requiring 390,000 meters of tubing. Rising resource prices have stimulated investments in development, and demand for coil tubes has also recovered. In addition, the sales volume of coil tubes for the semiconductor sector is increasing year-on-year."
To meet the strict requirements of its customers in this sector, the Group has invested heavily in testing facilities. "We aim to increase the 2020 sales volume by a factor of five by 2023."
Although a latecomer to the coiled tubes market, the company intends to capture market share by working with high value-added and difficult-to-process materials such as high nickel and duplex stainless steel.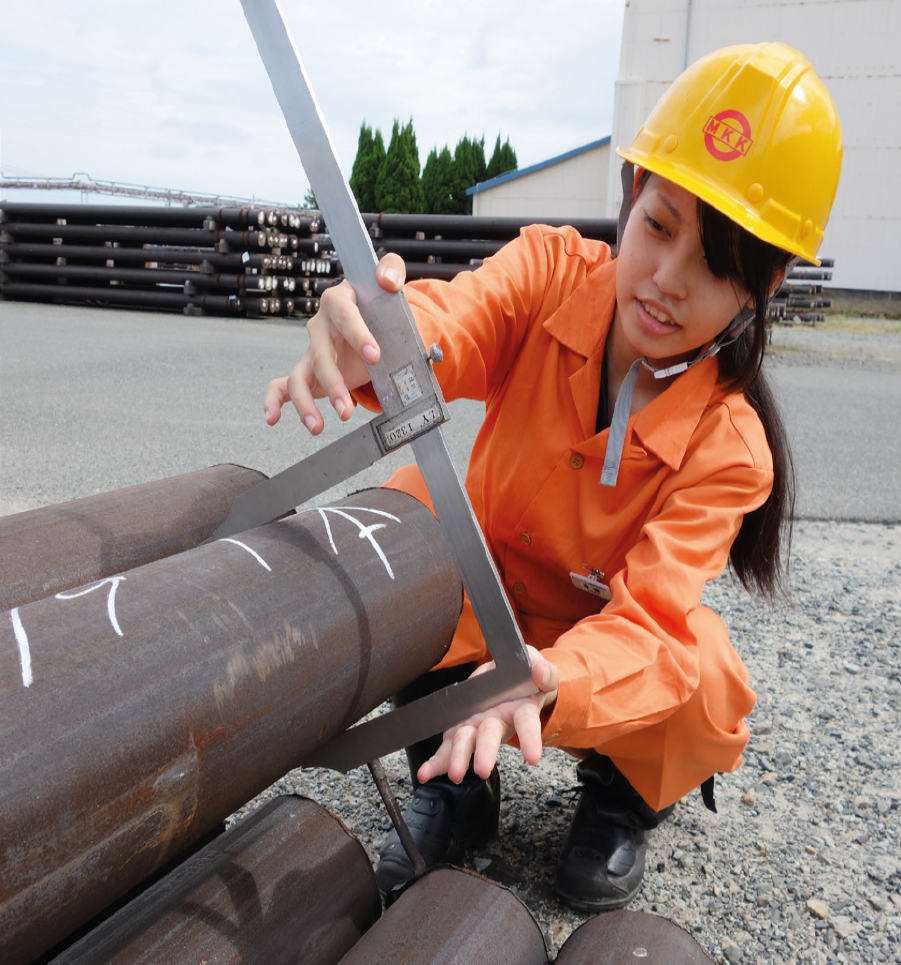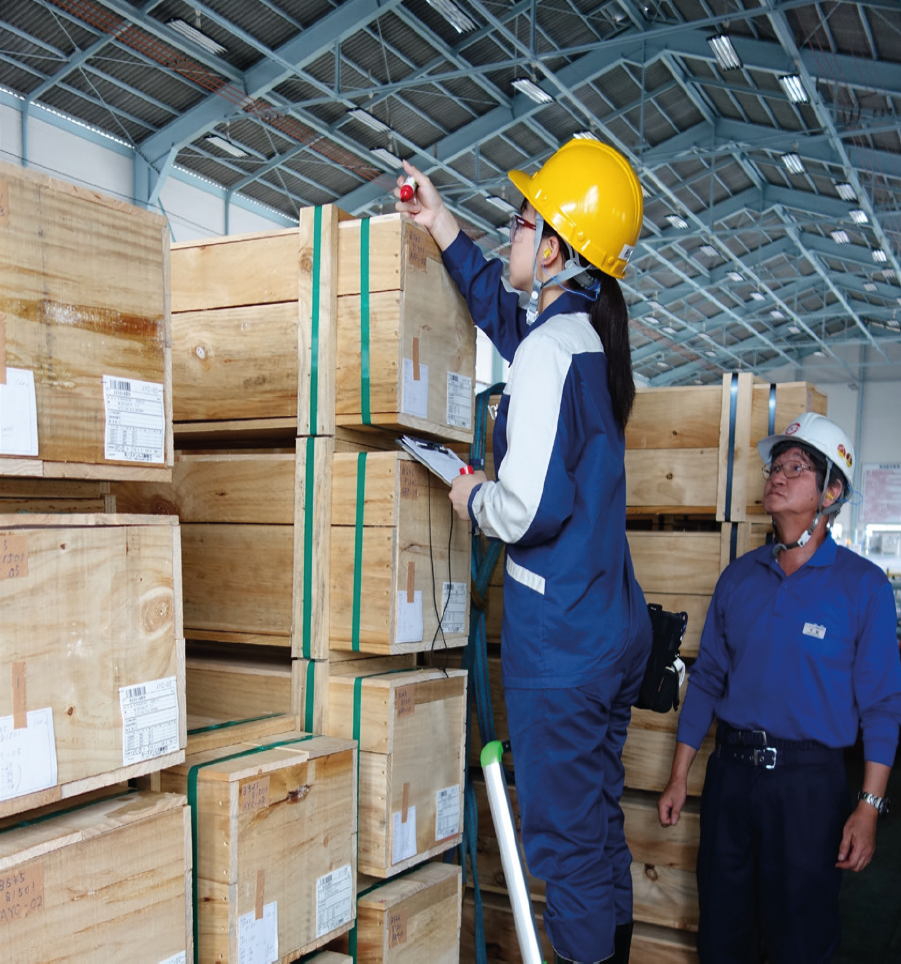 Booming Demand for Semiconductors
Maruichi has set out a strategic investment plan that will see it spend 3.4 billion yen over three years. These include improving automation and productivity within its plants, renewing aging facilities, and improving safety and environmental issues. An additional 2 billion yen will be invested to increase bright annealed pipe production capacity.
"The need for bright annealed (BA) tubes has grown in response to the booming global demand for semiconductors. In response to the construction of new large-scale semiconductor factories in the United States, South Korea, China, Taiwan, Japan, etc., the fourth BA Pipe Factory (approximately 2,400 square meters) was established within the headquarters Shimonoseki factory premises. Two BA furnaces and manufacturing equipment were newly installed, and as of the end of August 2013, a system of 250,000 units per month was established.
"We expect the booming demand for semiconductors to continue for some time," continued Mr. Onishi, "and 2022 has surpassed the record-high market size achieved in 2021 due to increased demand for in-vehicle semiconductors (EV, automated driving) and factory automation. Our manufacturing and quality assurance systems are highly regarded both in Japan and abroad, and orders are increasing from North America, South Korea, and Japan. We expect this situation to continue for the foreseeable future, with full production capacity utilized at our BA tube plants."
Demand from the automotive sector is also expected to remain strong for the time being, as the sector is the second largest consumer of BA tubes after semiconductors. "Demand for fuel line tubing used in direct injection engines is expected to shift from gasoline engine vehicles to battery EV vehicles and FCV vehicles in the future," explained Mr. Onishi. "However, it is unlikely that the demand for gasoline engine vehicles, including hybrid vehicles, will drop sharply."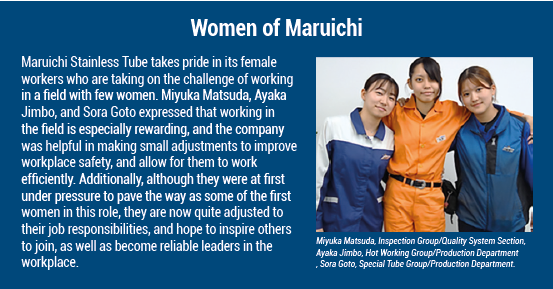 Initiatives for Decarbonization
One of the Maruichi Steel Tube Group's major targets for a decarbonized society is the reduction of CO2 emissions. In line with national guidelines, the company plans to reduce its emissions by 46% by 2030, compared to 2013. As Maruichi Stainless Tube has the largest number of heat treatment facilities in the group, the company generates a large amount of CO2 and needs to take the lead in reducing emissions. This is not a new objective for the company, as its first step towards decarbonization took place 22 years ago. "Over two decades ago, Maruichi Steel Tube upgraded one of its stainless steel tube heat treatment furnaces, and the renewal is expected to reduce fuel consumption by approximately 10% compared to the current level.
Scope 1 (direct emissions) is the first target, but beyond that, the company is looking at Scope 2 (indirect emissions), and taking measures in a 'no sanctuary' sense by building up the smallest of details.
"To move towards a decarbonized society, we have been working on the production of high-pressure hydrogen pipes for use in hydrogen stations. Hydrogen stations are equipped with a mechanism whereby hydrogen is procured from external sources or produced on the station premises, pressurized by a compressor, stored in a pressure accumulator, and supplied at high pressure by a dispenser to various fuel cell vehicles," said Mr. Onishi.
The compressors, accumulators, dispensers, and piping that connect the stations are required to withstand a high-pressure hydrogen environment. High-strength 316 series stainless steel pipes with a cold-worked finish are therefore used in these applications. The cold-worked 316 series stainless steel pipe is required to be highly safe in harsh usage environments and has stringent specifications in terms of strength and dimensional tolerances. "Maruichi Stainless Steel Tube has manufactured pipes that meet these demands, and as a result, we have built up a large supply track record in Japan for hydrogen applications. This is just one of many ways that we continue to contribute to a decarbonized society."
Reducing the environmental impact of gasoline vehicles has become another important consideration for Maruichi Stainless Steel Tube, as it has a significant impact on the ability to achieve a decarbonized society. "In order to contribute to solving this problem, we have developed a new high-strength material (KRSA A31) for fuel rail piping for direct injection gasoline engines.
In the future, Mr. Onishi believes that vehicles that do not emit CO2, such as FCVs and electric vehicles, will become more popular; for the time being, however, gasoline vehicles are expected to continue to play an important role.
Alloy KRSA A31
One of the techniques used in the industry to improve fuel efficiency is gasoline direct injection (GDI). GDI is a process that can create energy with high efficiency by reaching a high compression ratio; this is done by directly injecting gasoline into the combustion chamber at high pressures via a fuel pipe.
Since fuel injection pipes supply gasoline repeatedly to injectors at dozens of MPa, they need a high level of pressure resistance. Additionally, dimensional stability during the brazing heat treatment is required because peripheral parts are attached to fuel injection pipes by brazing and higher-pressure resistance is necessary for fuel injection pipes that are used in higher-pressure GDI systems.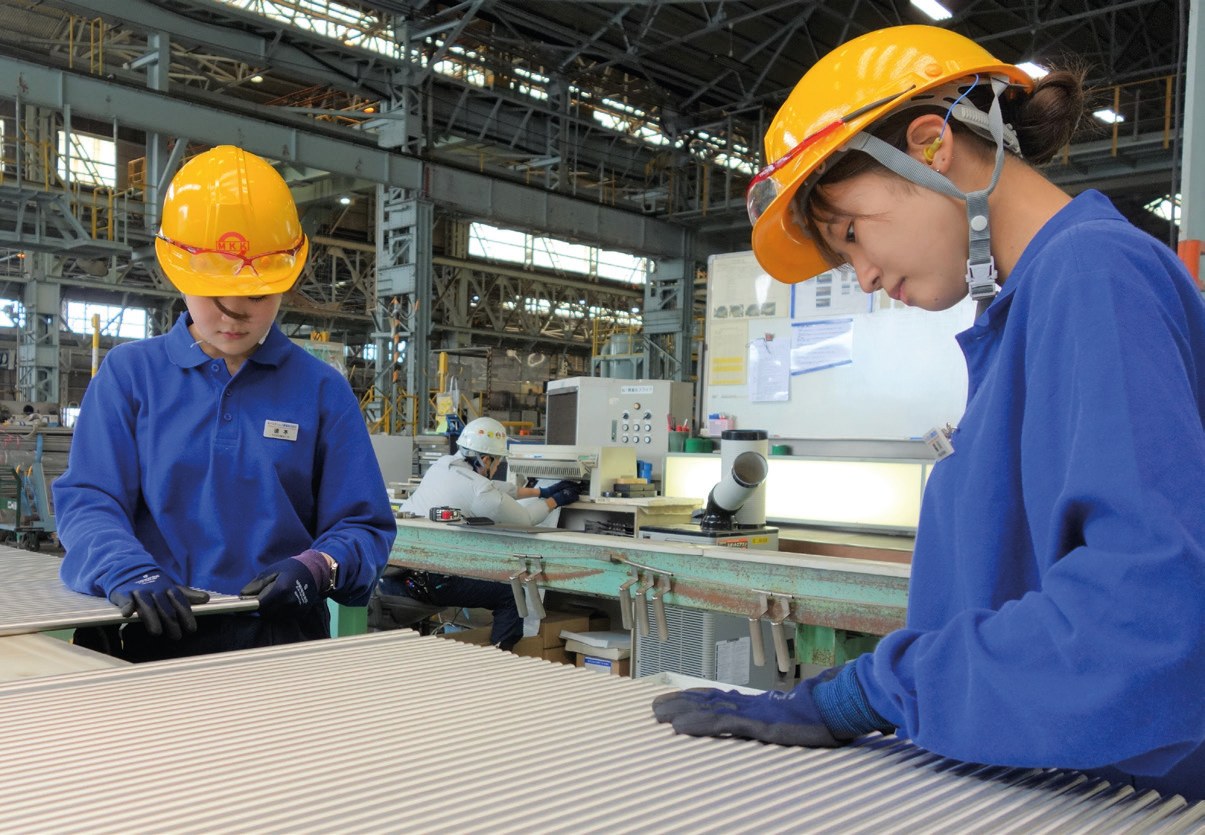 The alloy design concept for Maruichi Stainless Steel Tube's KRSA-A31 was based on SUS304N2, which is mainly used for high-strength members, such as bolts and nuts.
After simulating the brazing heat treatment at 1100􀀀, KRSA-A31 was able to maintain its high strength, while 0.2% proof stress of SUS304N2 dropped. These results demonstrate that fuel injection pipes constructed of KRSA-A31 have high-pressure resistance. While studying the dimensional stability during the simulated brazing heat treatment of KRSA-A31, it could be seen that although duplex stainless steel deformed at high temperatures, KRSA-A31 had only a small degree of deformation and could offer excellent shape stability.
The company plans to continue its research and development for a decarbonized society by utilizing and applying the high-pressure hydrogen piping, and high-strength technology it has developed so far.
Relationships Built on Trust
Maruichi has built relationships based on trust in a range of industries across the globe over many years of business. Its high-quality products and exceptional customer care have cemented its role as an indispensable mill for its customers around the globe. As one of the top suppliers of seamless stainless steel pipes, Maruichi has many plans to continue providing the best products and innovations to the market.