Market Update of Centravis: Global Manufacturer
FEATURED STORY:
of Seamless Stainless Steel Tubes and Pipes
Centravis, a prominent manufacturer of seamless stainless steel pipes and tubes situated in Nikopol, Ukraine, continues production despite experiencing a temporary production halt. The company provides an extensive product offering of high-quality tubes and pipes.
Stainless Steel World Americas had the pleasure of speaking with Yuriy Atanasov, Owner and CEO, Rex Inman, General Manager of Centravis Sales America (CSA), and Dmitry Kiselenko, Sales Manager (CSA), to see how Centravis is continuing to operate, the next steps to expand the company, and exciting future endeavors.
By Sara Mathov
Background and History
Centravis Production Ukraine, a subsidiary of the Centravis Limited group of companies, traces its roots back to 1935, when it was founded in Nikopol, Ukraine, as a producer of seamless stainless steel pipes and tubes. "Over the years, the company has undergone various changes in ownership and management and experienced several modernizations to stay up-to-date with the latest industry practices and technologies," said Inman. Despite these changes, Centravis has proudly maintained its tradition of producing high-quality stainless steel tubes for nearly a century.
In 2007, the company was rebranded and reemerged into the market under the name of Centravis, displaying revitalized strength and resilience. "The company made a series of transformative initiatives that led to remarkable improvements in the organization," continued Inman. Centravis' manufacturing capabilities have evolved from a standard stainless steel tube mill to one of the top 10 tube mills in the world; this effectively elevated its status to that of a major industry player.
Global Product Offering
Centravis boasts an expansive portfolio of products that revolve around the production of high-quality pipes and tubes. The company offers a diverse range of solutions including heat exchanger tubes, instrumentation tubes, boiler tubes, furnace tubes, hollow bars, automotive tubes, general tubes & pipes, nuclear tubes, and H2FIT tubes for the emerging hydrogen market. "To cater to the specific needs of our clients, Centravis offers a wide range of material options such as nickel alloy, duplex, super duplex, 304, 316, and many more," said Kiselenko. "It is widely recognized for its exceptional products, with a strong focus on automotive tubing, where it commands a remarkable 30% share of the European market and 2.5% of the total world's automotive instrumentation tubing," he continued. The company has also gained a solid reputation in the petrochemical and oil & gas industries for its furnace tubes which is evidenced by its exhaustive list of approvals.
"Centravis has also been an established player in the U.S. market for over a decade, and has earned top tier recognition in the industry," said Atanasov. The company has forged strong relationships with prominent distributors throughout the country, further solidifying its presence in the U.S. "The lift on the tariff on all steel imports from the country only bolsters the competitiveness of Centravis in the U.S. market, said Atanasov. "We cover most of the demand from the U.S., and we are very confident in what we do: stainless steel tubes and pipes."
Moreover, Centravis offers a highly competitive lead time, providing a production and supply turnaround time of two to three months for most of its tubes and pipes. "This lead time is notably shorter than other European mills, positioning Centravis as a top performer in the industry," said Atanasov. As the fourth largest European supplier, the company's strong production capabilities and timely delivery schedule present a significant advantage for customers seeking to secure high-quality solutions within a compressed timeframe.
Customer Satisfaction
Regular feedback is an important aspect of Centravis' quality control process, and any issues related to product quality are taken seriously. "To ensure the highest levels of quality, we bring the customers to the mill to work closely with the company's technical specialists and production team to address any concerns and guarantee that products are manufactured to exacting standards," said Atanasov. "Centravis offers a wide range of testing options, including eddy current, ultrasound, hydro testing, corrosion testing — anything that the market requires, we can do."
The company's commitment to quality has earned recognition and accolades from customers. "One of our more recent orders was for an Alabama utility plant, and they were thoroughly impressed by Centravis' ability to deliver 80 tons of critical boiler tubes ahead of schedule," said Inman.
Centravis places a strong emphasis on delivering top-notch service to its customers, a commitment that is fully backed by the company. The approach involves a strategy of under-promising and over-delivering, ensuring that when deadlines are set, they are met with precision. "The importance of timely material delivery for critical projects cannot be overstated, and while this has not always been the norm, significant changes have been instituted since the appointment of the current CEO," said Inman. The company's structural and operational updates have centered on improving service, making it a core focus of Team Centravis' business strategy.
"Centravis prides itself on being present for its customers throughout the entire process; from the initial quoting to production, delivery, and post-service. The company's commitment is not just to sell pipes once, but to establish long-lasting relationships with our clients," said Atanasov.
"It is a company of about 1,400 people, and it has an incredible culture. I have worked in mills before, but this is a very special place," said Inman. After just two weeks working there, Yuriy Atanasov actually took me aside and asked me on our very fi rst meeting, 'what can I do to help you do your job?'. That speaks to the culture that he has instilled at Centravis. I see myself working here until I retire."
On February 24th, 2022, the company ceased production due to the uncertainty resulting from the ongoing conflict. "After three weeks, the CEO made the decision to resume production to support the livelihoods of our 1,400 employees," said Inman. During that period, Centravis' primary and fundamental customers remained supportive, although there were several understandable cancellations due to the uncertainty of the situation. "However, the process to resume production was full of challenges, which included instability in the power grid and the company being unable to make shipments from the Black Sea region anymore," said Atanasov. Despite these obstacles, the company persevered and overcame all of these hurdles to resume production.
"We began addressing the challenges one by one, including negotiating with the government to ensure an uninterrupted power supply," said Inman. "Additionally, our billet supply, which was mostly domestic, was also under threat. As a result, the CEO and his team were able to strike a deal with a European supplier of billets based in Finland. In a critical situation, we urgently needed 200 tons of metal. Engaging with the CEO of this supplier, they faced the challenge of an unplanned metal melt. The director boldly instructed his team to 'call it made for Ukraine and make it happen', and against all odds, the metal was ready in a week." said Atanasov.
Centravis has implemented several risk mitigating steps, including diversifying the billet supply, ensuring electricity all of the time, shipping from Western Ports, solidifying trucking with Western companies, and even building another mill. "Therefore, the entire process, from production to delivery, was strengthened and made more reliable. As a result, not a single piece of pipe or container has been lost since the onset of the conflict," said Inman.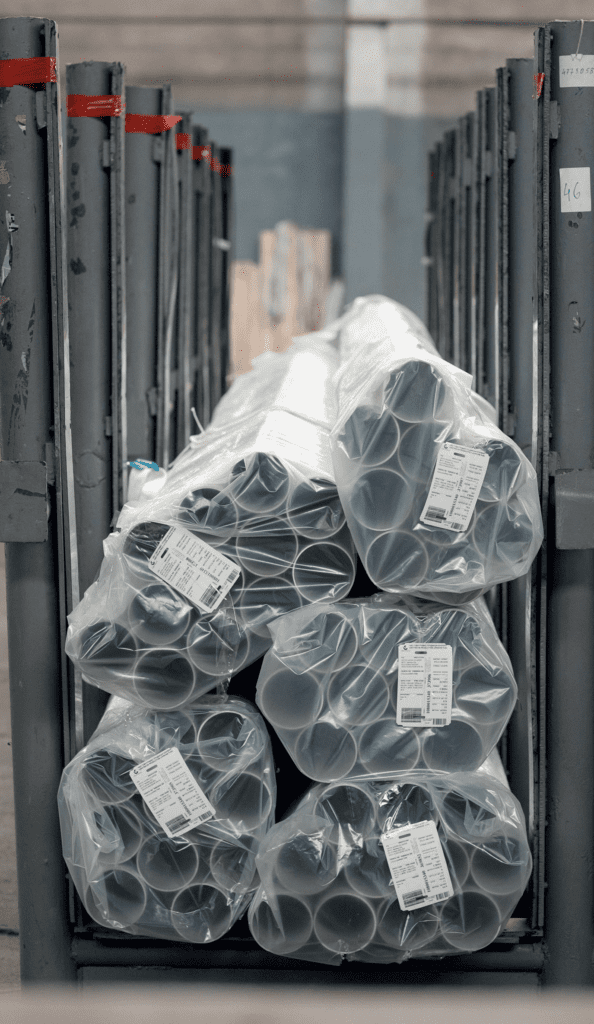 "Centravis is widely recognized for its exceptional products, with a strong focus on automotive tubing, where it commands a remarkable 30% share of the European market and 2.5% of the total world's automotive instrumentation tubing."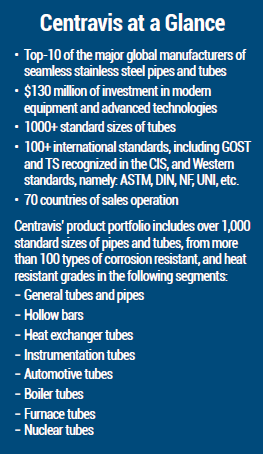 Expanding and Growing
Centravis' future is full of growth and expansion. The company recently established a new plant in the far western region of Ukraine, Uzhgorod. "Plans have been made to expand this new facility within a year, which will result in almost doubling its capacity for a small tubing," said Inman.
Efforts are being made in the Nikopol plant as well, to strengthen the press capabilities for generating larger sizes and longer lengths of pipes. Additionally, the company is enhancing and specializing its heat treatment capacity to cater to the newer grades of steel.
Another area Centravis is looking to explore and invest more in is military supplies. "As our company utilizes billets sourced from DFARS compliant countries, our pipes and tubes meet the compliance standards and are thereby suitable for use in military applications in the U.S.," said Kiselenko.
The company remains committed to continue growing and meeting the diverse needs of its clientele.
The views and opinions expressed in this article are those of the profiled company and may not reflect the position of Stainless Steel World Americas.