The Varying Personalities of Exotic and Alloy Steels
FEATURED STORY
An interview with Travis Field – Rig Welder and Welding Supervisor
Part one of two
Did you know that every metal has its own unique personality, nuances, quirks, and mannerisms? Did you know that a welder should be a kind of 'metal-psychiatrist' to be able to do the welding job correctly? This is something that Travis Field of Legion Piping Fabricators, has become acutely aware of during his career.
In part one of this interview, Stainless Steel World Americas was happy to speak with Field about his experiences entering the industry, and working with exotic and alloy steels.
By Editorial Team
Travis Field was uncertain of what direction to take in life when he was graduating from high school. "I had an interest in psychology; teaching and passing on knowledge was something I was good at, but I thought maybe business courses would be a good start – I honestly had no idea what direction to take," he says. "One day a friend of the family, a Rig Welder named Andy Nypuik, came over. We sat at the table and Andy spoke about welding. He said that no matter what you pursue in life, you can always have welding in your back pocket. We went to the Alberta Apprenticeship Board the following day and he signed all the paperwork needed so that I could start my apprenticeship as a Welder." Field went to the Northern Alberta Institute of Technology and Lake-land College for the technical training of his welding apprenticeship, receiving his Journeyman Ticket in late 2008.
Field was taught by Gerry Bellehumeur, Owner of GRB College of Welding. "Gerry has been in the welding industry since the mid 1960s and the depth of his knowledge is unfathomable. I can ask him about pipeline welding techniques from the 1960s or about the oxides on Zirconium; formulas for expelling energy into a material or about the chemical composition of a filler metal and how the various percentages in the chemical makeup influences the property of the deposited metal. I greatly admire Gerry, and he has always been there for me."
By 2009, Field became a certified B Pressure Welder, holding many different welding qualifications. "I started with my Alberta initial B pressure white card and CWB Structural welding certification in January of 2009. As April rolled around, I went to the GRB College of Welding and took Gerry's Carbon & Stainless TIG Course. I would take more welding courses including nickel alloys, pipeline welding, STT, aluminum – but in February of 2013 the trajectory of my life became quite interesting: I took Gerry's titanium welding course. Gerry's Titanium Welding course took me to Houston, Texas, in December of 2018 to work alongside the Welding Instructors at South Coast Welding Academy on Titanium and Aluminum Pipe Welding." This would lead into becoming a guest judge at South Coasts' Junior Senior Highschool Welding Competition, and leading into welding demonstrations at Fabtech in Chicago, and underwater welding in Houston, Texas.
A Day in the Life
Today, Field is a Rig Welder with Legion Piping Fabricators in Nisku, Alberta. "We are in the process of setting up a location in Houston, TX, as well. I will be relocating and moving to the United States, taking on the role of Welding Supervisor, which will further expand my responsibilities of my current position."
One day, he may be working with aluminum piping and structural components at one site, the next day doing a position closure weld on a 48" 0.688 wall 304H stainless steel spool, tag teaming with a fellow Legion Welder; the following day he may be in the shop welding Titanium spools.
When Field was young, he used to hear 'wild, grandiose stories – almost mythical stories' of welders who would make $130 an hour, welding Inconel in a shop, or a great Titanium welder able to name his price and travel all around the world for different projects. "There were stories of welders who were set up with a positioner and fabricating 100-inches a day, all day, everyday. I would hear these stories and as fate would have it, upon gaining traction in my career, I was fortunate enough to become that welder. I have been flown across the world to pass on my knowledge. I have been able to do underwater welding at the Ocean Corporation in Houston, not once, but twice!" Field says. "That is what I enjoy the most—the unique opportunities that my profession gives me."
In contrast, Field believes the most challenging aspect of his job would be the solitary aspects of welding and how your mental mind can work against you. "You are in your own thoughts for many hours of the day; troubles in a relationship or personal disappointments and shortcomings are enough to make you lose focus, and it will show greatly in your work."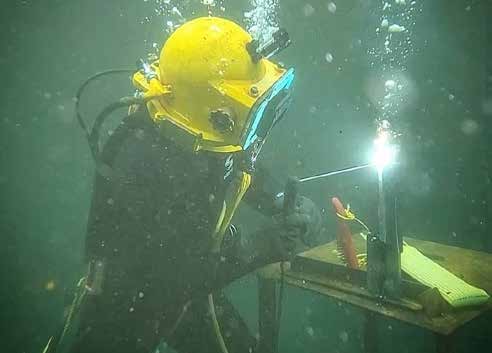 Understanding Specialty Alloys
Field has worked with a broad range of materials – especially corrosion resistant alloys (CRAs) and exotics. "A welder has to be a psychiatrist when dealing with the different metal personalities. Each individual metal has its own little quirks and behaviours, personality, and mannerisms; something that makes the metal difficult but, once you know how to interact and work with the metal, then it becomes easier," Field relays. "Take a 304L stainless steel, for example – the metal is very doughy and greatly influenced by heat. When fabricating stainless steel spools such as 2-inch sch.10, especially dealing with olets, repads, shoes, and butt welds – the metal will pull, bend, bow like a banana, and shrink immensely. Being aware that stainless is very temperamental with the influence of heat will only help strengthen a working relationship when welding it."
Field considers titanium to be a very cause-and-effect metal. "Titanium is a very willing metal to work with and is easy to troubleshoot; you only need to remember three things: one is heat input, two is shielding gas and parts per million of oxygen, with three being cleanliness and oxide removal." He adds, "Titanium becomes very sticky when it feels even the slightest sense of heat. It is like a solid mass that turns to honey. Titanium has a unique way of correcting techniques that are sloppy, which one could get away with on other metals. If you hold the TIG torch perpendicular to the pipe, the energy will be focused on one spot, with the weld puddle being rounded and protected within the inert gas of the inside diameter of the ceramic cup. There is a very sticky oxide that is created on the tip of the filler metal if it is allowed to interact with the atmosphere beyond the protective shielding of the ceramic cup. The trick with titanium is to use a larger outside diameter ceramic cup for protective shielding and always keep the tip of the filler metal protected within this inert atmosphere so that this very sticky oxide then now, cannot be formed."
Field believes that the higher the grade of alloy, the more theory-based the welding of these metals becomes, with less focus on time, and more diligence on routine cleaning, prepping, and welding. "Little nuisances like this are what makes welding very unique, and sometimes quite difficult, especially when external variables such as humidity or other environmental influences become a factor."
The most difficult and urgent problem Field faces when working with exotics and specialty alloys comes down to the people involved, and their ability to understand the psychology of the particular metal that is being welded. "Communication and being able to work together as a team are very important, ensuring that everyone understands the needs of the materials. A welder needs to feel confident that if a problem should happen to arise during welding, it will be addressed immediately," he explains. "The welder working on the material must be an expert, but we do need additional personnel with similar experience who can work with us such as our fellow welders, but more importantly a foreman or welding supervisor."
One of the most overwhelming things a welder can learn is what kind of material will be flowing through the piping that they will be welding. It could be hydrogen gas, propane, water, hydrochloric acid, sulphuric acid, plastic pellets, air lines, steam, black liquor evaporation, solids, etc. "The very nature and purpose of using exotics and alloys is for hectic and hazardous materials to be transported through them. A fact both valuable to know and be made aware of, to help better understand the sheer importance of a quality weld and achieving the highest level of success with the different metals a welder will encounter," says Field.
When working with aging plants or older piping systems, Field has sometimes run into the problem where the system has become obsolete and needs to be replaced. "In this case, a higher alloy steps in to replace the pre-existing line. For example, I did the welding procedures for Monel piping, which were allowed to be done using Monel Plate. Using plate helped with allowable thickness to be welded to, on the procedure, but also the cost of the piping alone – one of the thicker plates by itself was five thousand dollars. What had happened, was that a 30 inch carbon steel line was in service as a flare stack for over thirty years. When it was replaced, the new line lasted only one year, and it was determined that hydrochloric acid was traced to be in the line. Monel was chosen as a replacement, as it would be a viable option when dealing with hydrochloric acid. Often times certain metals will be chosen for their particular properties and qualities they may offer over another, and often cost is a major factor in determining what materials may be suitable or useful for particular purposes," he explains.