Technology advancements for overlay applications
FEATURED STORY
In this article, the welding technology used for weld overlay and buildup applications in mitigating corrosion, erosion, and other degradation problems will be discussed in the context of applications in the petrochemical industry.
By Dongmei Sun, P.Eng., Liburdi GAPCO
Corrosion and erosion are problems faced by many industries, from nuclear to marine, to petrochemical, to power boiler. Base materials and degradation mechanisms may differ from industry to industry, but equipment owners share the same view when it comes to managing and mitigating erosion and corrosion for antiquated pressure equipment. Extending component life and safe operation in a timely and cost-effective manner are crucial for all equipment owners.
In the petrochemical industry, many degradation mechanisms are inherent with the processing of petroleum products, especially at elevated pressure and temperature. For example, API RP 571 lists over 60 different damage mechanisms that can occur in refining industry. Commonly used materials for the pressure vessels in the petrochemical industry are carbon steel (ASME P number 1) and low alloy steel. Low alloy steels used in the refinery include ½ Molybdenum or 1/2 Chromium (ASME P number 3), 1-1/4 Chromium + 1/2 Molybdenum (ASME P number 4) and 2 ¼ Chromium +1 Molybdenum (ASME P number 5). Some vessels are also overlaid or strip cladded with stainless steel for improved corrosion resistance, such as vessel internal stripe cladding with 405 ferritic stainless steel.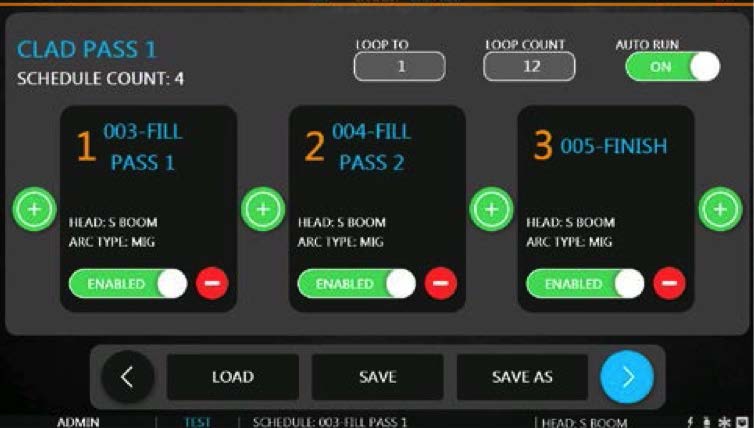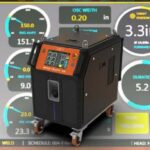 For corroded pressure equipment, the commonly used mitigation and repair strategy is to restore the nominal wall thickness of a vessel by buildup welding using matching filler material to meet design requirement. Most often, the application of a corrosion-resistant layer to preserve and protect the underlying shell for improved corrosion resistance is also used for extended operating life. Commonly used corrosion resistance overlay materials are austenitic stainless steel and nickel based alloys depending on the application and service conditions of the pressure equipment.
Weld buildup and corrosion resistance overlay are normally executed during a planned plant outage. Due to the schedule constraints for each outage, high productivity and quality weld overlay are critical in meeting the project timeline with a specific outage window. Normally, the welding activities must be completed within a couple of weeks. The cost of a delayed or missed schedule in the average refinery can be up to USD $2 million per day.
Machine welding overlay systems
Like all industries, the overlay business is looking into new technologies to improve productivities and reduce costs, while still meeting the ever-increasing quality requirements. The demand for high productivity and high-quality weld overlay applications have driven the development of more advanced welding systems with improved control capabilities. Welder shortages and skill-set challenges also accelerate the need for new welding systems, which requires minimum welding operator training, and being less operator-dependent for achieving high quality overlay applications.
Most corrosion resistance weld overlay (CRO) for field applications in pressure equipment is performed in 2G horizontal welding positions, using the gas metal arc welding (GMAW) process. Pulsed welding is also employed for reduced heat input and dilution control. Using the GMAW process, high productivity means high wire feed speed. With the increase of the wire feed speed, the welding travel speed should also increase to ensure proper layer thickness control and bead profile.
Fully utilizing the features of the advanced weld overlay system, experienced welding teams, like the one found at Liburdi, have developed vast libraries of corrosion resistance weld overlay procedures which can meet the ever-increasing quality and productivity requirements. The deposition rate using a machine weld overlay system is two- to-three times higher than semi-auto welding. Deposition rates at 12-15lb/hr can be easily achieved with 0.045" diameter filler material in 2G welding position using GMAW-P process for field applications. Figure 1 shows uniform fusion line with low dilution weld overlay weld.
Quality and productivity comes with high level of control from the welding tool, which can reduce human error, and improve quality and productivity.
A human-centered system
The human-centered design in the welding system aims to improve the welding operator's safety and experience through an easy operating user interface. Reduced human errors are achieved by a high level of machine control. Some of the main features of an overlay welding system are summarized below:
Thorough arc tracking for automated torch height control for stable arc and hand free operation on uneven surfaces. With this feature, continuous welding current and constant Contact Tip to Work piece Distance (CTWD) can be maintained without operator interference, which is critical for achieving high quality welds.
The welding tool can be programmed in three-dimensional space and is able to weld irregular and complex geometry, which is an important feature for weld overlay or build up application on pressure hulls or any other irregular weld geometry (Figure 2).
Hands-free weld overlay and build up operation can be achieved through automated overlap and stepping without operator interference (Figure 3).
A versatile oscillation feature provides flexibility for various applications. Three oscillation modes to fit into different applications for welding procedure and technique development: oscillation inline with travel speed, oscillation across weld seam, and tilt oscillation cross weld seam.
High travel speed and wire feed speed motors for high deposition and high productivity weld overlay applications.
Innovative process features and user interface include touch screen digital weld interfaces with a multi-layer program menu designed for engineers, welding supervisors, welding operators, and equipment technicians (Figure 4).
The operator-centered remote control pendant design is robust and suitable for field application. The toggle switch and dial design of the remote control pendant enables welding operators to easily locate and make fine adjustments on welding parameters and torch location with the helmet down and gloves on, without needing to see buttons on the pendant.
Universal track and weld head design can cover weld overlay height for up to five feet with one setup.
Digitalization on weld schedule and waveform display and storage can provide extra monitoring information for quality control and information retention for future reference (Figure 5).
Customized gas cup and diffuser design incorporates years of welding experience, which provides superior gas shielding protection for stainless steel and nickel based alloy overlay application even at very high travel speed (Figure 8).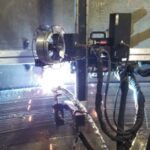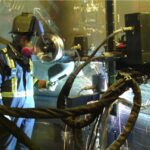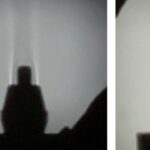 Conclusion
Continuous innovation with improved level of control has made the welding system a product leader for the overlay application to meet ever-increasing industry demands.
About the author
Dongmei Sun is a senior welding engineer at Liburdi GAPCO, a field service division of Liburdi Group of Companies. Dongmei has extensive experience in welding, material, quality control, construction codes and standards; and has been providing welding engineer supports and consultations for nuclear, marine and petrochemical industries. As a welding engineer, Dongmei promotes using technologies and welding automation to add values to the industries and improve the working conditions for the welders and welding operators.