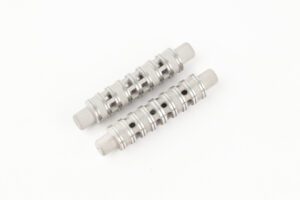 Desktop Metal, a leader in mass production and turnkey additive manufacturing solutions, today announced it has qualified the use of nickel alloy IN625 (IN625) for the Production SystemTM platform, which leverages patent pending Single Pass JettingTM (SPJ) technology designed to achieve the fastest build speeds in the metal additive manufacturing industry.
A nickel-chromium superalloy, IN625 is characterized by its high strength, resistance to corrosion and oxidation, excellent weldability, and ability to withstand extreme, elevated temperatures for parts under load. IN625 is a critical material used extensively in high temperature aerospace applications, while its corrosion resistance under a range of temperatures and pressures also makes it an excellent choice across marine, power generation, and chemical processing applications.
"As a transformative combustion equipment company, we are very excited about the release of IN625 for its high temperature and corrosion-resistant properties in flaring and sulfur incineration applications," said Jason Harjo, Director, Mechanical & Electrical Design (Americas), Koch Engineered Solutions. "This will give us much more flexibility in innovative, additive manufacturing designs for some of our most difficult applications."
Courtesy of Desktop Metal.