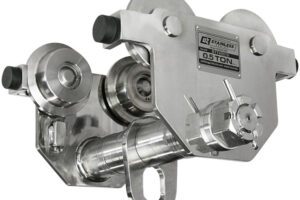 OZ Lifting Products has expanded its stainless steel range with a 0.5-ton capacity manual chain hoist and trolley. The American manufacturer previously came out with 1-ton and 2-ton versions of both products, all made from stainless steel.
The manual hoist is the centerpiece of the stainless-steel range, designed for lifting and pulling, for various applications. The trolley fits most common I-, S-, and W- beams, depending on end user needs.
"We've had increasing demand for lower capacity products, so I'm pleased to offer 0.5-ton versions of both the manual chain hoist and trolley. As always, we will continue to listen to our dealers and end users, and I wouldn't be surprised if 0.25-ton, 3-ton and even 5-ton versions are put to market in the future," said Steve Napieralski, president, OZ Lifting.
Image credt: Hoist Magazine