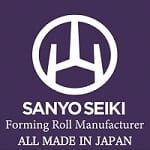 7th Floor, 1-2-8 Hamasaki, Asaka City Saitama, 351-0033 Japan
7th Floor, 1-2-8 Hamasaki, Asaka City
Saitama, 351-0033
Saitama
351-0033
Forming Roll manufacturer located in Japan.
We serve for Stainless Steel, Carbon Steel, Titanium tube and pipe industry.
Since SANYO SEIKI was established in 1965, we have supplied out tooling to more than 360 customers / facilities outside Japan.
Our advantages are;
ROLL MATERIAL
Only use Steel Materials made and forged in Japan.

More than 800 tons of SKD11 (D2 equivalent) forged bar in stock.

Roll OD of φ900 and up are also available and capable.

Various SKD11 modify materials are also available for better hardness, toughness and anti-chipping.

ROLL DESIGNING/ENGINEERING

Innovator of Partial Step Forming (PSF) for welded Stainless tube/pipe as well as Floating Flange rolls (Idle rolls).

Finite Element Analysis (FEA).

Supervising at Customer's tube/pipe mill.

Solving forming issues such as Edge waving, deformation after cut, scratches on pipe surface and others.

PRECISE ROLL MANUFACTURING

All rolls are manufactured at main factory close to world famous Ginzan Hot springs in Obanazawa City, Japan.

Roll OD around φ1500 are capable.

Latest CNC machines by DMG MORI.

Heat treatment by vacuum furnaces and Sub-Zero heat treatment in house.

Roll maintenance facility in Tokyo, Nagoya, Osaka as well as USA and Thailand.
SANYO SEIKI CO., LTD. (Forming Roll Manufacturer)
1-2-8 Hamasaki, Asaka City, Saitama, 351-0033, JAPAN
Phone: +81-48-486-1100
FAX: +81-48-486-1101
http://www.sanyoseiki.co.jp/en