Clean-Co Systems: Continuing 30 Years of Comprehensive Cleaning Solutions
FEATURED STORY:
Clean-Co Systems is a full-service industrial service provider, offering unique technology, and a wide variety of services and repairs. Stainless Steel World Americas spoke to Jack Cahill, Vice President of Clean-Co Systems, to learn about the extensive service offerings, and how Clean-Co Systems is making a difference in the industry.
By Sara Mathov
Background of Clean-Co
Clean-Co Systems is an industrial service company, with a strong focus on environmental and industrial services, and has successfully been assisting its clients for over 30 years. "All of our equipment and services are mobile. We are one of the very few that have offsite and onsite features," said Cahill. "We are also family-owned and operated." The owner, James Rooney, who goes by Mickey, is very involved in the company's day-to-day.
Clean-Co Systems is based in the Houston, Texas area, although it has been able to reach customers and expand throughout the U.S with three office locations. "One of the biggest milestones would be opening our state-of-the-art heat exchanger cleaning facility and water recycling facility 15 years ago, near Houston in Channelview, Texas. This enabled us to offer offsite cleaning methods," explained Cahill. "Since then, we have installed chemical vats for exchanger soaks and a clean room for oxygen service. We are going to expand our cleaning facility this year by doubling the capacity with additional bays, additional overhead cranes as well as adding thermal oxidizing ovens to bake exchangers. Our most recent breakthrough is our new fleet of fully automated and robotic equipment. We can clean heat exchangers with any method possible, while still keeping safety and the environment in mind, and reducing wastewater."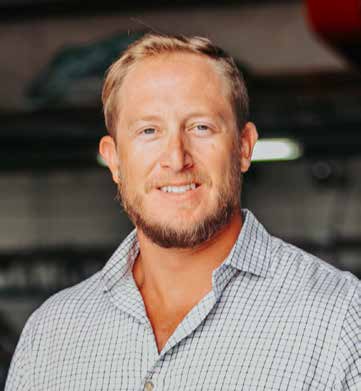 Plan of Action
In the offsite heat exchanger cleaning facility, an eco-friendly, safe, and efficient alternative to help take the burden off maintenance departments at the plant is offered, all at a low packaged price. The benefit of having services offsite is eliminating the need for subcontractors going into refineries, often performing dangerous tasks.
Depending on what a plant produces, Clean-Co Systems comes up with a plan to approach and best serve the client. "For example, a polyethylene plant has different issues than a crude oil producing refinery. We have the expertise and experience to know what each plant would need, and which environmental services, chemicals or blasting methods are needed. We understand the client's need, and can choose the equipment that is best for the job," he explained. "We get to know the client and their goals, determine budgets and timelines, and then go onsite to take a look at their units. We come back to our facility, create a plan to ensure the client is satisfied. We analyze the best way to get everything done safely, and then execute."
"At the end of the day, we are a people business, and we value our people tremendously. Our culture is filled with safety, and empathy for not just our clients but also our employees. Our main goal is to support communities and families, and everything we stand for is backed by the people that we represent, including keeping safety at the forefront so everyone can safely return to their families and live healthy prosperous lives," said Cahill.
Unique Technology, Quality Services
The bulk of Clean-Co Systems' customer base comes from refineries and chemical plants. The leading service that Clean-Co offers is, of course, cleaning both on and off site – but the services do not stop there. Clean-Co Systems has capabilities and services including a full fleet of hydro excavation trucks, liquid vacuum trucks, portable steam generators, and dry ice blasting.
The capabilities of the onsite and offsite cleaning services include automated shell side cleaning systems, pressure systems that range from 10,000 to 50,000 psi, fully automated multi-tube lancing systems, and more. "We offer non-invasive chemical cleaning and soaking, as well as refurbishing and repairing any type of heat exchanger," stated Cahill. "We have every piece of cleaning equipment in the industry, to complete any task." The company has the ability to handle different materials, including carbon steel, stainless steel, copper, nickel, and more.
"Using self-contained roll tarp trailers, we can also transport heat exchangers, contain any waste coming from them, bring them to our facility, and clean, and return them," explained Cahill. On top of offsite capabilities, Clean-Co Systems can also go directly onsite and perform services, including repairs. "We repair heat exchangers through our strategic partners, so we create a turn-key solution for our clients," he added.
The technology offerings of Clean-Co Systems are unique and sets them apart from many other companies. "We have a patented cutting process to clean tubes. We offer hydro blasting, chemical cleaning, repair, media blasting, and much more. We have fully automated robots that are hands-free, to increase safety and increase production. We have top-of-the-line automated equipment to service our customers, and meet their needs from all perspectives, notably safety," said Cahill.
Clean-Co also offers unique specialty services that are unmatched in the industry, such as explosion proof cameras for inspecting pipelines, and dry ice blasting, which is useful for cleaning something that cannot get wet. "We also have portable steam generators. Our generators have the capacity to handle 550 degrees of steam at 850 psi all on one trailer. We proudly built this ourselves." These service lines and ability to work onsite as well as offsite makes Clean-Co Systems extremely diversified in its capabilities.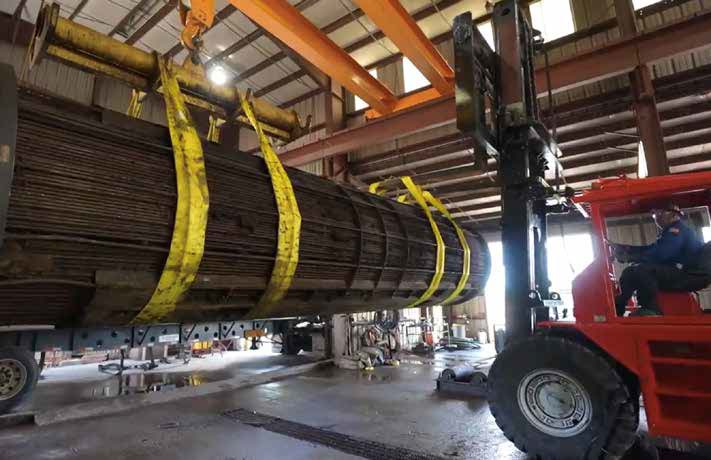 Environmental Responsibility
"For over two decades, Clean-Co Systems has had long-term ESG factors in mind," said Cahill. "We have been approaching the market with an eco-conscious mindset, along with safety as a priority. We have always done that, as it was always our standard. Now that we see how other companies are letting clients know about their ESG values, we want to come out and say that we have actually been doing this for over 15 years."
One of the main ways that Clean-Co Systems acts as a leader in being environmentally responsible is reducing wastewater with its very own wastewater treatment plant. "We minimize the amount of water we need to use to clean heat exchangers. We do that by using recycled water, and using process water in a closed loop," explained Cahill. "It is also a wastewater treatment facility, so we then recycle the water and reuse it. Not only does this minimize the amount of wastewater, but it also minimizes disposal, and hazardous waste. We have a full team of chemists who test the water and separate solids via centrifuge."
Looking Ahead
Clean-Co Systems will be expanding its cleaning facility in Houston, and adding a facility in Corpus Christi. "The cleaning facility expansion will include additional soaking vats, and an oven for baking," said Cahill. "The Corpus Christi facility will be a wastewater treatment facility, as well as a cleaning facility. We are working on these now for the immediate future."
"We plan on growing our customer base into the South Texas region, all the way through towards Mississippi. Once we get the Corpus Christi cleaning facility up and running, we will look at putting a cleaning facility in Louisiana," said Cahill. "We will benefit from this growth because we have the right people in place. From product management, customer relations, safety, environmental responsibility, we genuinely have it all covered," he concluded.