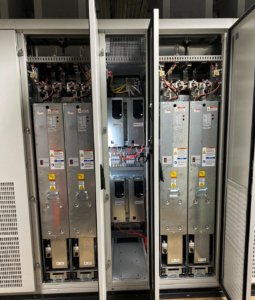 The Automazioni Industriali Capitanio (AIC) team has been contracted by CMC Steel located in New Jersey, USA, for boosting the performance of its rolling mill.
The target of the job will be focused on achieving a great improvement of head and crop shear management and, at the same time, a radical rising of precision, repeatability and reliability of the cut cycles.
The electrical and automation equipment will mainly consist of:
Automatic circuit breaker, safety devices and transformer with protections;
Regenerative DC Bus supply unit and LCL filters;
Intuitive HMI;
AC drive suited with converter and Ethernet card on board;
Start/stop shear PLC control with rack and axis card.
Part of the intervention will be focused on redesigning the existing PLC & HMI control system to properly adapt the interfaces and functions with the new shear PLC and drives conditions, using the existing engineering stations at the site.
Actually, an excellent control system is compulsory for an efficient and reliable process: the new shear control will be integrated into the mill architecture with great benefits in terms of maintenance, troubleshooting and yield improvement.
Furthermore, the IBA system already installed will be interfaced with all I/O signals and the most crucial variables handled by the new AB PLC. Modernization activities will also include Leine&Linde pulse incremental encoders to ensure the speed and position feedback from the AC motors. AIC will follow the client throughout all project development, electrical installation, commissioning and production. Remote assistance will be also provided.
Courtesy of AIC Group.