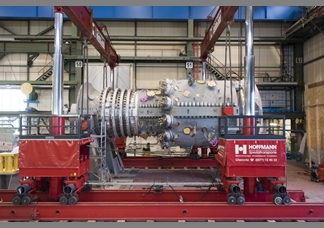 The first of three Siemens' H-Class gas turbines has gone online successfully at Florida Power & Light Company's (FPL) Cape Canaveral Next Generation Clean Energy Center in Port St. John, Florida, near NASA's Kennedy Space Center.
"Clean and efficient power generation is one of the most important milestones on the road to a new, more sustainable age of electricity," said CEO of the Fossil Power Generation Division of Siemens Energy, Roland Fischer. "The H-Class is a landmark in engineering and energy efficiency. Since its initial startup at the Irsching Power Station in Germany, this new machine has run extremely successfully for more than 18,000 operating hours. The 60-hertz version will contribute significantly to clean power generation in Florida and serve as yet another example of FPL's leadership among U.S. utilities."
FPL, a subsidiary of U.S.-based NextEra Energy, Inc., serves the third most customers of any American electric utility, and is known for its reliable service and clean emissions profile.
Three more units of the model SGT6-8000H gas turbine will also be installed at a similar new plant under construction in Riviera Beach, Florida.
The SGT6-8000H is the scaled 60-Hz version of Siemens' successful SGT5-8000H gas turbine, which made power plant history in May 2011. Installed in a combined-cycle power plant configuration at Irsching Power Station in Bavaria, Germany, the SGT5-8000H achieved world-record efficiency of 60.75 per cent.
"By significantly reducing the amount of fuel we need to burn to generate electricity, Siemens' fuel-efficient turbine technology will help us continue to provide our customers with reliable, clean power at the lowest typical electric bills in the state," said plant general manager of FPL's Cape Canaveral Next Generation Clean Energy Center, Mark Lemasney. "The successful test-fire is an exciting milestone for this important investment, and we look forward to continuing to work with Siemens as we prepare the plant to enter operation next year."